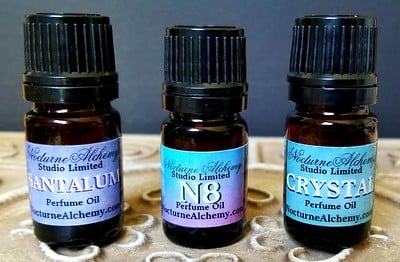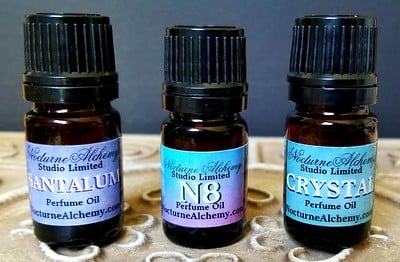 Nocturne Alchemy VAULT — Studio Limited Retro Labels — 5 ml Bottle
$29.00
Nocturne Alchemy Vault — Studio Limited Retro Labels — 5 ml Bottle
These bottles have the long labels like the bottles pictured here.
All bottles are brand new, wrapped and sent to Crypta Obscura direct from Nocturne Alchemy.
SHIPPING
The default shipping rate is USPS First Class. To upgrade to USPS Priority Flat Rate, please add the Priority Shipping Upgrade to your order.
Note: Orders with over 4 perfume oil bottles and orders containing jars of body butter must be shipped Priority Flat Rate.
https://www.cryptaobscura.com/product/priority-shipping-upgrade
PRIORITY SHIPPING - For orders of 4 or more 5 ml bottles, OR if you wish to use USPS priority flat rate shipping, the 'Priority Shipping Upgrade' listing must be added to your order to cover the Priority Flat Rate shipping increase. This listing will add the difference to the base First Class rate. If the 'Priority Shipping Upgrade' listing is not added and you have over 4 bottles in your order you will receive an invoice for the upgrade to Priority. To expedite order processing please add this listing to your order prior to checkout.
ADD-ON ORDERS
USE CODE "ADDONFREESHIP" AT CHECKOUT. Use this code only if you are adding to an existing paid order. Please put the order number you are adding to in the comments. If this code is used and there is not an existing un-shipped paid order referenced the order will be cancelled and refunded.
_________________________________________________________________
NA VAULT - Studio Limited Retro Labels
Santalum - "This is the beautiful Sandalwood imported from Alexandria infused with all Egyptian components: coconut husk, golden amber accords, golden Sandalwood resin, deep fossilized amber, golden Himalayan Cedarwood, gold Patchouli and a teardrop of golden Frankincense." ~Nocturne Alchemy
Amethyst -" Single Note perfume oil built from two notes from a sweet Egyptian Sandalwood and a beautiful earthy Egyptian Teak" ~Nocturne Alchemy
Crystal - "Harvested in Egypt with Egyptian Black Vanilla pods, flecks extracted and blended into a beautiful and smooth White Musk. For this perfume, it is about precise binding and timing and we hope you enjoy it as it is one of our customer-favorite single notes." ~Nocturne Alchemy
Blue Topaz - "A beautiful Blue Musk blend of aquatic musks and oceanic pine but not the 'ocean' staple of salt and sea, but of mermaids and mermen, perfume for a fantasy musk of Atlantis" ~Nocturne Alchemy
Black Musk - "Imported Egyptian Black Musk" ~Nocturne Alchemy
Patchouli - "A true scent of Patchouli 100% organic and pure. Imported from Alexandria as Patchouli leaves and root and created as Perfume here in our Studio. This perfume will only become richer, smokier and more poignant with aging. Truly a significant Patchouli for any perfume lover. Rich, smoky and viscous gold patchouli." ~Nocturne Alchemy
Indigo - "Words to visualize with this perfume oil are 'heavenly', 'purple', 'peaceful', 'ethereal' and 'grounding'; imported African Musk." ~Nocturne Alchemy
Tibetan Santalum - "Deep incense of Tibetan Champa, Tibetan Sandalwood, Australian Sandalwood, Nepalese Sandalwood, White Sandalwood, Santalum Absolute, Siam Benzoin Resin and Amber Henna, Davana distilled essential oil, Tibetan Musk, Nepalese Sugandh Kokila, Plumeria, Bastet's Amber and soft spirals of pure eNVie Saphir Amber essence." ~Nocturne Alchemy
Tibetan Crystalline -"Deep incense of Indian Nag Champa Studio Blend (Champa, Indian Sandalwood, Benzoin and Henna), Mesua Ferrea Absolute, Aged Crystalline Absolute, Tibetan Musk undertones and soft spirals of pure Bergamot leaf essential oil." ~Nocturne Alchemy
Moonstone - "This was sold out and highly sought after and requested for a return. We found enough vanilla beans to cull the perfume again with the husk, fleck and essence of African White Vanilla to bond with a dash of Crystalline. This is a fresh batch and best when aged. Of course you can apply to skin now but the scent will resonate with aging. The true Husk, black and white Fleck, essence and whole of African White Vanilla with a kiss of Crystalline will only get better. " ~Nocturne Alchemy
Bloodstone - "Dragon's Blood is naturally deep blood red in colour. Please be aware of this when applying. This is the natural colour of the resin that we have used and alchemically transformed into perfume oil. A beautiful perfume on its own or apply as a layer with the Permanent collection Dragons to enhance the Dragon's Blood in each of the Dragon perfumes." ~Nocturne Alchemy
Pink Quartz - " Pink Vanilla Blossom, Crystalline, Crimson Egyptian Musk, Bastet's White Amber Absolute and a minimal drop of aged Oak" ~Nocturne Alchemy
Ember Vanilla - " A haunting Vanilla cream with accents of caramel and a sweet kiss of brown sugar, in which we mean, the vanilla is underneath teasing and sweetening the woods of exotic Indian Sandalwood, American Cedar, California Redwood and the haunting decadence of our ICON Egyptian Oudh as part of this blend. A vision of smoked vanilla but only by using the finest of NAVA SL ingredients." ~Nocturne Alchemy
Garnet - "Cherry wood, amber and rich musk. Black Cherry essence, Australian and Karnataka (formerly Mysore) Sandalwood finish the scent." ~Nocturne Alchemy
Pyramid Vanille - "Kobalt (Vanilla Orchid of Cairo), Crystalline (Egyptian Vanilla/stigma Resin), Crystal (Black Vanilla bean Musk) and Moonstone (African White Vanilla)." ~Nocturne Alchemy
N2 - "Beautiful Egyptian Musk from the edge of the Nile and only from Aswan, Egypt." ~Nocturne Alchemy
West Indian Vanilla - "Rich aspects of Vanilla Ice Cream essence, an ethereal French Vanilla Fleck, Vanilla Buttercream, beautiful on its own or layered with Crystalline, a touch of Kobalt, a little French Vanilla Pompona Schiede and French Vanilla Fleck." ~Nocturne Alchemy
Kobalt - "Exquisite Vanilla Accord of Cairo Vanilla Orchid leaves, Pure E/O of a true non-hybrid Egyptian White Vanilla grown specifically for NA by our beloved Egyptian Alchemist based in Cairo. Blending with only the truest and highest quality of Vanilla's from around the world. 8 Vanilla Orchid oils of Cairo, Madagascar, Spain, Reunion and Comoros Islands, West Indies and Kenya. " ~Nocturne Alchemy
Tahitian Vanilla - "Tahitian Vanilla Bean, Crystalline Vanilla and Coconut Husk essence." ~Nocturne Alchemy
N8 - "A sensual Musk created with the absolutes of ylang ylang, neroli, white jasmine, white floral musk, white rose petals and sandalwood with a drop of Bastet's Amber." ~Nocturne Alchemy
Pyramid Santalum - "Four aged Sandalwood perfumes by Nocturne Alchemy, blended together in different quantities to create an aromatic sandalwood symphony. When worn the sandalwood notes will vary in scent dependent on the wearer. Santalum, Santalum White, Santalum Sweet and Mysore Santalum." ~Nocturne Alchemy
Egyptian Musk - "Single note scent - of PURE Egyptian Musk. The thick, clear and clean mild beautiful scent is the scent of Egypt. Created from Musk Mallow, Ambrette Seed and Musk flower. " ~Nocturne Alchemy